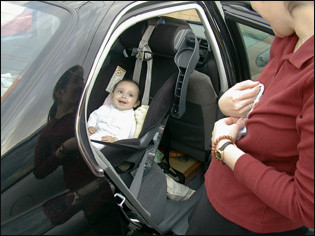 Los Angeles, 3:15pm, February 18, 2001:
My goddaughter awaits her mother's arms on her baptismal day.


LOS ANGELES, February 18

I admire my friend, I know that my goddaughter will grow up proud of her mom -- a hardworking immigrant mother and wife who's encouraged her husband to study and is continuing her own education at night. When she's not at her job or caring for her two daughters she sits on the board of a non-profit organization that mentors girls in Los Angeles gangs and organizes earthquake relief or toy drives for hospitalized children in her native El Salvador.

Our friendship has survived seven years and many transitions. She viewed me with suspicion when I first asked to meet her, and wore a hooded sweatshirt and dark glasses for the occasion. Back then my friend was known as "little devil" inspiring fear and respect among even the most macho male members of her gang. Gradually as trust between us grew she helped me to navigate the gang neighborhoods of Los Angeles and El Salvador knowledgeably and therefore more safely than would otherwise have been possible.

I have rarely taken photographs of my friend and I have never written about her before. For a long time those were the rules we kept -- in part from a shared sensitivity to exploitation's many guises. It has helped uphold a delicate balance of trust, respect and survival.

But today, as I watch her daughter watching her I feel what a privilege it is having such a friend and such a beautiful goddaughter. And I want to share the wonder of this with all the world.