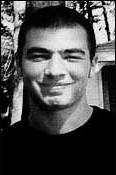 Asel Asleh, a 17year old Arab, was buried in his green shirt. He owned 30 of them, all with the same logo, the words "Seeds of Peace" and an olive branch. He had spent three summers in the woods of Maine at a camp run by Seeds of Peace, a U.S.-based group that tries to foster co-existence and has brought some 1,300 Arab and Jewish teen-agers together.
There, the teen-ager from Arabeh struck up friendships with Israeli Jews, including 17-year-old Moran Eisenbaum, who paid a condolence visit to Asleh's family Wednesday, along with others from the local Seeds of Peace chapter.
After returning from summer camp, he nurtured his new friendships. His parents would drive him to friends'
homes in Jerusalem and Tel Aviv on the weekends for visits. He invited them home for Muslim holidays. He hoped to become a computer engineer and spent much of his time e-mailing his camp friends.
Asleh was killed by Israeli police fire during stone-throwing clashes in his home village of Arabeh, in northern Israel.His relatives weren't sure if he
was among the stone-throwers or just stumbled into the line of fire while trying to reach a fatally wounded friend. At one point, Asleh's mother, Wajeeha, sensing the danger, ran along the rocky hillside to warn her son and urge him to come home, but couldn't reach him in time, said Asleh's sister, Nardeen.
Soon after, hundreds of Arabeh residents took to the streets to vent their anger. Many threw rocks. Israeli police fired rubber bullets, chased demonstrators with clubs through olive groves and also fired live ammunition.

In an essay he wrote for the Seeds of Peace newsletter, Asleh had expressed his double identity: " I can never take the word Israeli off my passport, or the word Arab, which I feel proud of every time I hear it,'' he wrote. ``We can't change what we are but we can change the way that we live already, we can take our lives in our hands once again.''
Ned Lazarous, the program director at the Seeds of Peace center in Jerusalem, recalled an evening spent at the Asleh home during the Muslim holiday of Eid el-Fitr last year. Asleh and several of his Jewish mates from camp were gathered around a table for a festive meal.
``It was a wonderful evening ... one of those moments when you felt that this (peace education) is working,'' said Lazarous. `But now, moments like this feel like the hatred and lack of control of people is destroying all the trust that beautiful moments like that build.''
Ofir Rahum was 16,
Amneh Muna was 25.
He was an Israeli and she a Palestinian.
He lived in Ashkelon and she in Ramallah.
He had green eyes, white skin and black hair.
She had hazel eyes and black hair cut in a bob.
He had just learned to shave
a few weeks earlier.
They met on an Internet chatroom.
Amneh told Ofir that her name was Sali
that she was a recent Moroccan
immigrant, she
did not speak Hebrew very well yet.
He wanted a date so much, they set one up
for Wednesday, January 17.
" I hope you are coming on Wednesday..
please don't say no I need you to be with me..please"
"Sali" wrote
"I will be waiting for you.
I prepare my friends house to stay there"
"Sali" wrote
On Tuesday Ofir told his friends:
"If I'm not in school
tomorrow, be happy for me."
He left at seven as usual
With his red backpack,
He had gel in his hair.
Ofir never came back.
Amneh Munah did not want to love
but to avenge the 400 Palestinians killed
in the recent riots. She was active in Fatah.

Ofir's body was found, riddled with bullets,
In a shallow grave near Ramallah.
Her friend Hassan al-Qadi did it with a Kalachnikov.
He was only supposed to abduct Ofir, she said.
In the photograph taken at the police station, Amneh Muna
Is smiling behind her cuffed hands.
I am very happy Ofir that you will come
"Sali" had written
"I miss you"
"Sali" had written
"Will you come by
bus or by taxi?"
"I will have a
good dream about you"
"Sali" had written

Words have killed
Before
bullets did.